4.5* Review of:
The Old Woman & the Mad Horse – Case File for: the Big Three Mining Investigation,
thriller, suspense, Australian rural, espionage, light romance (try typing that title out a few times, and you'll understand why we deducted half a star!)
Blurb (Smashwords):
A damaged ex-covert operative seeks the quiet life but has to deal with the niggling problems from the last job before she can settle in real life.
It was supposed to be a quiet place for a cyber-researcher to take up her new role after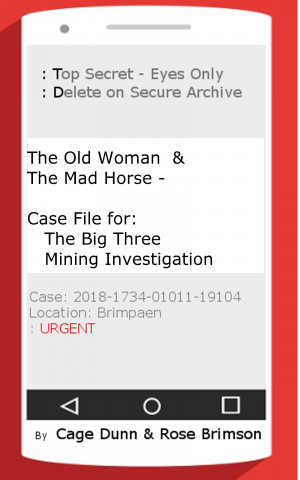 the attempt on her life. But the country town of Brimpaen bristles with an undercurrent of fear that Hella Solaris, recently retired from covert ops, can't leave alone. The instincts that have kept her alive this long are burning worse than the scars from the last failed sting.
And this rot stinks like a shallow grave.
Like someone followed her. Like it's personal.
When they try to kill the horse, she needs to use any asset she can, including a young girl and her overprotective-cop-father, to find the who and the why – or is she seeing shadows where there are none?
Review: We received this eBook through a request to the author. We asked for it when we saw it out. Why? So far, we've liked every story we've read of his/hers.
This one kept me going from word one. Subtle, but sucked me in – just one more page, I'd say, and then, 'oh, but I have to know!' and then one more page.
It was well-written, one minor error (you find it yourself), moved at a good clip, and focussed on the things that kept my interest.
What's it about? Well, the blurb tells you she's damaged, but you don't get it until you need to, you don't see the full impact of her fears and pain until the right time. And then you realise – oh, no! And you feel it, even though the character (Hella, love the name!) tries to avoid all discussion of her problem.
It's about a woman who wants somewhere to call home, to be part of someone's life, to be meaningful in more than her work. She wants connection.
It's set in a part of the country we know – and we know about the internet problems, too! I think that's where it resonates most strongly. We've been out of contact for a few weeks now (feels like months!) due to variable connection to the world-wide-web (a bit of a giggle at that), so we can relate to the problems Hella may have if she can't get good links.
It's a story about finding a way home, but maintaining the moral structure that led to the type of work she does – and the families, the cells? Interesting, I say, very interesting indeed. I'd like to know more!
Apparently, Amazon users will have to wait, but if you want the best we've seen of a new writer, enjoy short thriller stories with strong characters, you can't go wrong with this one.
---
As an aside, we've been 'off-air' due to connection issues in rural Australia, and hopefully now that we're back, we can continue to post reviews.